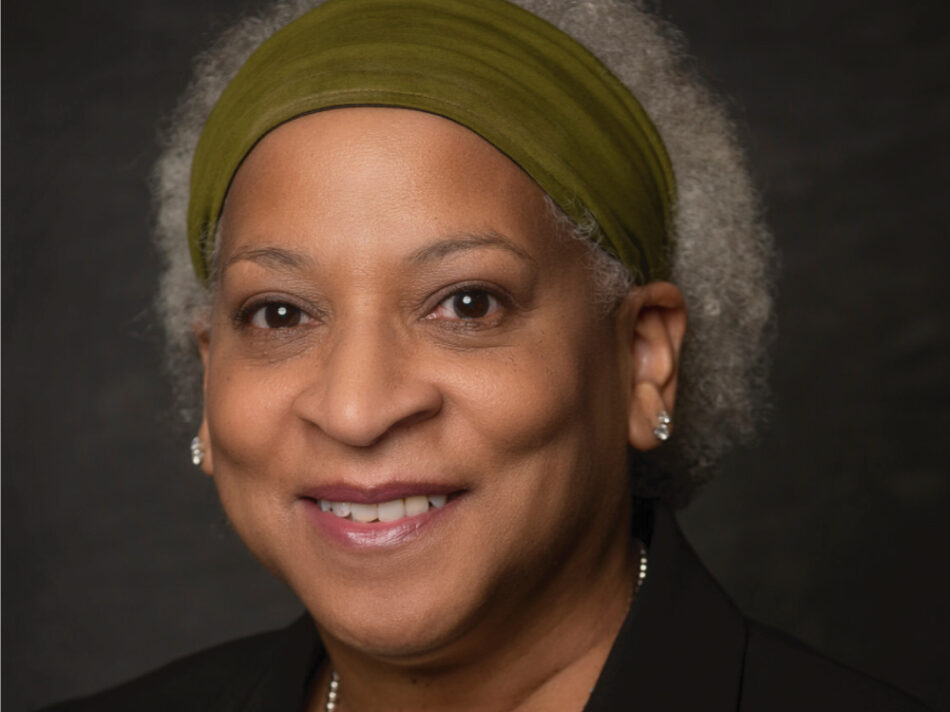 A Conversation with Harvesters' President and CEO
As Valerie Nicholson-Watson prepares to retire, we asked her to reflect on her time with Harvesters.
Q: Of all the important social issues out there, how did you come to be involved with the issue of hunger relief?
A: Hunger relief chose me. I was soul searching and realized I wanted to enter the nonprofit sector to utilize my talent in a more meaningful and impactful way. My first position with Harvesters (Director of Community Services, 1999-2004) enabled that.
I soon realized that hunger relief dovetailed into my life experience. It was not that I had been food insecure, although my mom knew how to stretch food. It was more about how food to this day continues to play into my family dynamics. We could not afford family vacations and the like, but we had family celebrations where food took center stage and there were beloved specialty dishes. Those specialties are a part of my family's history and culture. We treasure and guard the recipes as if they were gold. It made it difficult to think of families who might not know where their next meal would come from, or parents forgoing meals to ensure their children had enough to eat.
Q: Harvesters operated very differently 20 years ago. Looking back, what memories do you have that would surprise people who only know today's large-scale, efficient, high- tech facility?
A: What comes to mind is when we transitioned from agency call-in ordering to faxing and then web-based ordering. There was so much apprehension about the technology and which agencies did and did not have it.
Twenty years later, technology supports almost every process we have, enabling a level of functionality that we could not have imagined back then. Our neighbors can use the web to find the closest pantry, we no longer hand count inventory, we have real time inventory data, job applicants apply online – the list goes on and on.
Q: Harvesters, as an organization, has changed significantly. Strategically, what have been the most significant changes?
A: Increased equity in distribution per county and recognizing that the nutritional value of what we distribute is as important as the amount of food we distribute are our most significant strategic changes. These strategic decisions have impacted our way of thinking and how we do business, but there is more work to do. It is changing our relationships with food donors and the asks we have of them; it is impacting the amounts and kinds of food we purchase; and how we deploy resources. It is also door opening to innovation and more purposeful planning.
Q: How has food banking changed in the last 20 years? (Food industry changes, competition for food, global aspects, etc.)
A: Harvesters has experienced a natural evolution from do not let decent food go to waste to also include make the healthy choice the easy choice. It is about providing food, but more than providing calories. We know that food sustains life, and the better the food (balanced and nutritious), the better the life.
Q: How has the face of hunger in our community changed during your tenure?
A: I do not believe the face of hunger has changed. As one segment of our population expands or retracts, the ratio of who we serve changes as reflected in the growing elderly population.
I think what has changed is the perception of who is hungry and why. Children, elderly people, and people with disabilities are among our most vulnerable, but other people, including people with full-time jobs can need food assistance.
Misunderstanding and misrepresentation of hunger and people who are hungry was common in the past. There is greater insight and accurate information now about who is hungry and why. Informed compassion is replacing old stereotypes.
Q: As you prepare to retire as Harvesters' CEO, what are you most proud of?
A: I am proud that Harvesters' Board of Directors entrusted the leadership of Harvesters to me. I am also proud that our community undergirds the organization to the level that enables Harvesters to have a growing impact on food insecurity.
I will always consider my leadership of Harvesters, and through it, my ability to serve the community, an honor, and an experience I will always treasure.
Q: You have been passionate about hunger relief for 20 years. Yet, need for food assistance remains high. What gives you hope that Harvesters can ever achieve its mission to feed hungry people today and end hunger tomorrow?
A: Harvesters—The Community Food Network is good at providing food for people who need it. Ending hunger tomorrow requires increased consciousness of why people do not have the resources to establish and maintain a stable, modest lifestyle. The consciousness, I believe, is increasing and there is increased collaboration to acknowledge and address the underlying causes of food insecurity – even among the hardest working people among us.
Q: Tell us your future plans. Do you intend to stay involved in the issue of hunger?
A: Top of mind for me is giving thought to this next phase of life, then jumping into it. I know it will include more time with family and friends. Additionally, I will stay involved in efforts that address human need, and I will always support Harvesters and hunger relief.
Q: What else would you like to share?
A: My career to date has been a journey that I could not have imagined. It has allowed me to use my skills, talents, and compassion to be of assistance to others. It has been gratifying to the intrinsic me.