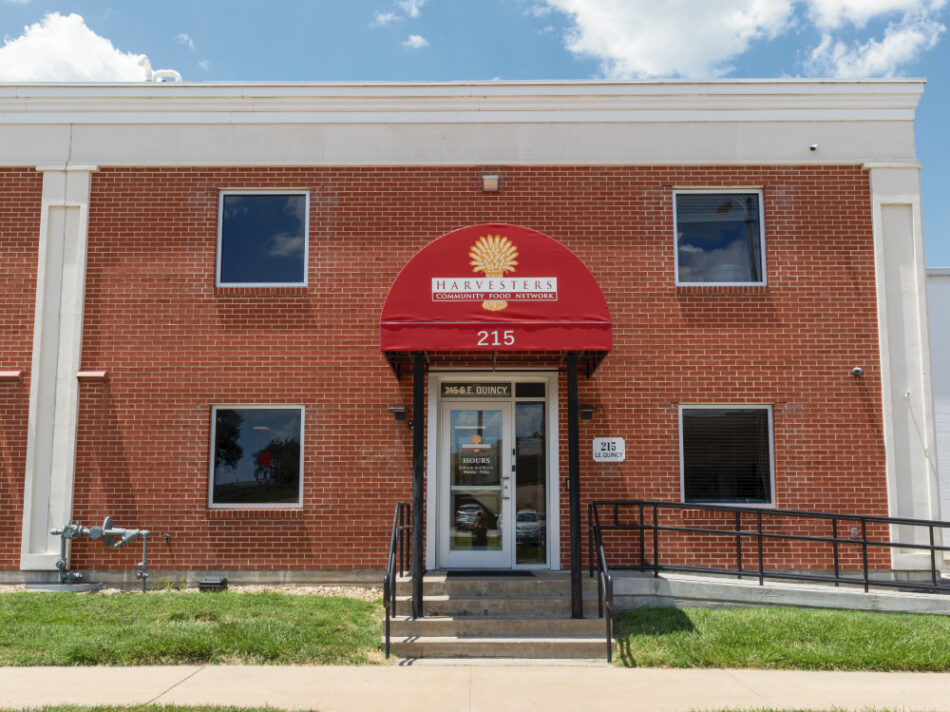 Residents 45 and older make up nearly half of Holton, Kansas' population. Most who use the food pantry at the JCMA New Hope Center don't have cars, so they either arrange a ride from a family member or friend, or they walk, some showing up pulling a wagon behind them to cart the items they receive back home.
One of these neighbors is Charles Sampel, 58, On the second Thursday of the month, Sampel, who is disabled and doesn't like to drive a car, usually walks four or five blocks to the pantry to pick up food provided by Harvesters.
"I really like the church. I think they are awesome. I visit with them a little," he says. "I like it when I walk in, and they know me."
Sampel moved from Seneca, Kan., a smaller town less than an hour away. He prefers living in Holton because it has a Walmart, often an important resource for communities surrounded by farm fields but short on grocery stores and other affordable food options.
Retiree Sarah Bahner volunteered at JCMA New Hope Center a decade ago. She began directing the efforts four years ago, when she became fearful the only pantry in the county would close when the position became vacant.
Sampel's stepdaughter initially told him about the food pantry. He lives with his 62-year-old wife, who is eligible for a monthly Commodity Supplemental Food Program (CSFP) box filled with healthy food staples.
"Her health is not good," Sampel says.
Sampel is tired of chicken, recently the volunteers at JCMA New Hope offered to keep an eye out for ground beef and sausage when available.
"But I have no complaints," he says. "If they didn't have a pantry here, I'd have to go to another town, and I don't like driving. It helps us big time."
Chicken aside, when asked if there is a single item she would put on the pantry wish list, Bahner says: "That's hard to say because there is so much need."
While winter is coming, she knows canned soup will be in high demand, but beyond food, many neighbors need hygiene items, like toothpaste, hair shampoo, even toilet paper.
Bahner is excited about a new partnership Harvesters helped establish with Dollar General store. The local store donates food that close to going out of date. The corporate donation allows neighbors to enjoy foods beyond the commodity basics, including milk, baked goods, frozen foods and even candy.
Many of the seniors served by the pantry are also raising grandchildren. Bahner recalls a little boy who clutched a bag of M&Ms to his chest for safekeeping.
"Everyone needs a treat now and then. People are so thrilled about the extra stuff," Bahner says. "Those little things make you feel so good about what you do."