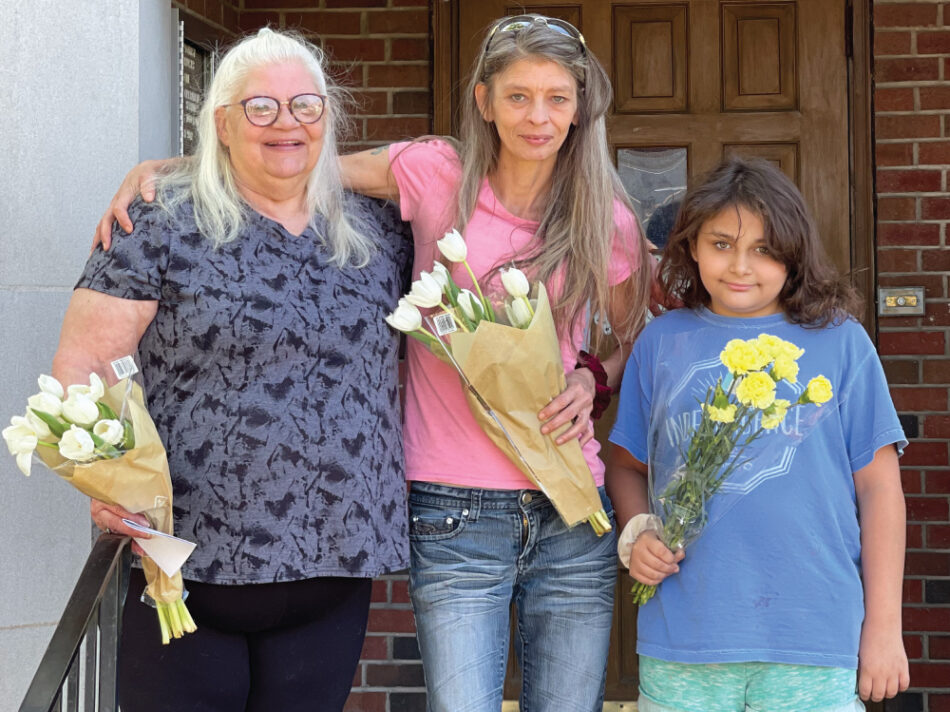 When the restaurant Sally Osiier, 68, worked at closed, she took a new job at a laundromat. Then, her Type 2 diabetes worsened, leaving her no choice but to retire.
"My sugar levels were off the charts, and I was in the hospital for a while," she said. "There was just no way I could work."
In the four years since, Osiier has relied on her Social Security benefits to survive. A mother of three, Osiier also has nine grandchildren and seven great-grandchildren (with the eighth on the way). Family is central to her life. She cherishes time spent with loved ones, including sharing warm meals—but on a fixed income, that became challenging.
About a year ago, Osiier and her oldest daughter, who is raising two of Osiier's great-grandchildren, began making weekly visits to the food pantry at Redemptorist Center in midtown Kansas City, a partner agency of Harvesters.
"It's a good way to supplement my income because Social Security payments aren't large. This way, I'm able to try things that I could never afford otherwise," she said. "They have the staples. You always get some kind of bread and sometimes eggs or milk. Their meat items are always very good. And I love the fresh produce!"
More than a reliable source of food, the groceries have provided healing nourishment.
"I really do enjoy a lot of fruits and vegetables, but they're expensive, so I didn't buy them in the past. Thanks to all the fresh produce I get now," she explained, "I've been able to lower my blood sugar and have completely gone off one of my diabetes medications—and I rarely take insulin anymore."
Sometimes, Osiier and her daughter will go into the food pantry and pick out items themselves. Other times, they'll take advantage of the easy drive-thru option where volunteers load up two families' worth of groceries—one package for Osiier and one for her daughter. Osiier enjoys each visit.
"Whenever you're there, it's not like you're a number," she said. "They know your name. They ask questions, and if you need something extra, they'll help you."
Between visits, it's not uncommon for one of Osiier's grandchildren to call and ask if she has a food item they've run out of or can't afford themselves. Often, Osiier can help because of the generosity she's been shown.
"If I have it, I'll say, 'Come get some,'" she continued. "Or I'll tell them, 'Grandma's cooking dinner tonight—do you want to come eat?'
"I'm very thankful. Now, I'm able to stretch my dollars for me, my kids and my grandkids. Harvesters is helping four generations of my family. I feel very blessed."