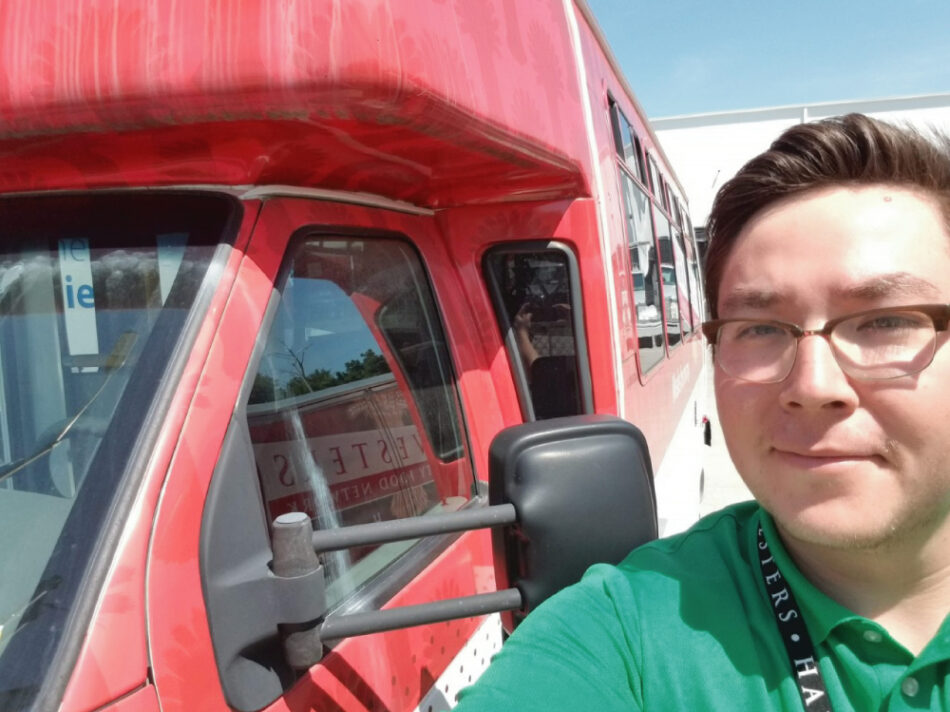 In honor of Native American Heritage Month, Feeding America is highlighting some Native Americans who work for and make a difference at member food banks around the country, including Harvesters' own Danon Hare.
As a child, Danon Hare – a member of the Pawnee Nation and a Yankton Sioux descendant – learned from his parents that supporting your community is one of the most important parts of life. His mother has served in Pawnee Nation Tribal Government for over 40 years.
"I saw her service and her dedication to our people and it was exemplified to me over and over as a child," Danon said.
His father worked for a nonprofit Community Action Program, and worked for the Census to help gather data from Native American reservations.
"It's in my blood to be a part of nonprofits," Danon said.
But Danon took a different path on his journey to serve his community. Instead of data gathering or tribal government, Danon got an AmeriCorps position in New Mexico, where he spent a year helping lower-income kids access after school programs.
"AmeriCorps changed my life," he said. "It helped me find something I didn't know I had. It helped me move toward the path of early childhood programming."
And that's how Danon discovered Harvesters—The Community Food Network, the food bank serving the Kansas City area. After his time in New Mexico, he accepted an AmeriCorps position at the food bank, which transitioned to a full-time job once his service was completed. Ten years later, Danon is still at Harvesters, serving his community. He coordinates the food bank's BackSnack Program, which provides children with a bag of food to take home on Fridays to make sure they have enough to eat for the weekend. Right now, the program is serving up to 12,000 students per week. Danon credits an important part of his Native American heritage as one reason he's been able to help the program become so successful.
"Growing up, respecting your elders was paramount to everything you did," he said. "If you wanted to get something done, you had to ask the right people – and the right people were usually the elders."
That respect taught him the importance of collaboration and communication, skills he uses every day at the food bank.
"I'm quick to jump into action when I see a problem or area of need, but it helps me because it reminds me I have to clear my work with stakeholders – not just staff members, it's community members too."
And after those 10 years at the food bank, Danon is excited for what's next. "Working at Harvesters has been a journey, but they've always been there," he said. "It's such a fulfilling job, when you go home and know that you've made a difference."